Krishna Sinha
Thank you so much for checking out my website!
My first art instruction came from the multiple trips to Europe that I was fortunate to take from an early age. I can still remember the feelings of shock and awe when I first saw Botticelli's "The Birth of Venus" at the Uffizi Gallery in Florence and Monet's "Blue Water Lilies" at the Musée d'Orsay in Paris. Through these travels, I developed an appreciation for attention to detail and narrative, both of which have been integral to my journey in the visual arts.
I began painting in oils while in high school at Brophy College Preparatory in my home state of Arizona. I have made it a priority that every work of art I produce helps me to develop my technique as a painter and/or tell a story about some aspect of my life, ranging from the dry desert landscapes that sweep my home state to the rich traditions from my Indian heritage. I found even more meaning in my artwork when I began selling cards with images of my original paintings to raise money for various charities during my high school years.
I continued my education at Duke University in Durham, North Carolina, where I recently graduated Summa Cum Laude and Phi Beta Kappa with a Bachelor of Science degree in Neuroscience. While it might seem counterintuitive at first, my interest in the brain stemmed from both my lifelong visual arts interests and musical training.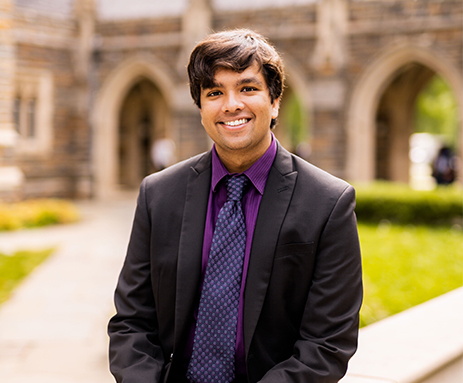 Early on, I wondered how I was able to do so many different things on the piano, from playing at lightning speed to memorizing pages of music. This curiosity drove me to conduct neuroscience research at a wide variety of places throughout college, culminating in a Graduation with Distinction in Neuroscience thesis on the molecular mechanisms of brain development.
My artistic endeavors in college included taking classical piano lessons through Duke's Department of Music, playing in the pit orchestra for Hoof 'n' Horn, our student-run musical theater group, and serving as President of Duarte, Duke's umbrella arts organization, through which I led art-themed events for the undergraduate student body and work closely with arts administration to strengthen the student arts community at Duke.
Currently, I am taking a gap year back home in Arizona while applying to medical school. I will also be able to spend some more time painting and playing the piano. This holiday season (2022), I have resumed greeting card sales to raise profits for Arizona's Hospice of the Valley, where I currently enjoy integrating both my medical and artistic interests to support dementia patients through leading art activities for them.
Thank you again for your interest!